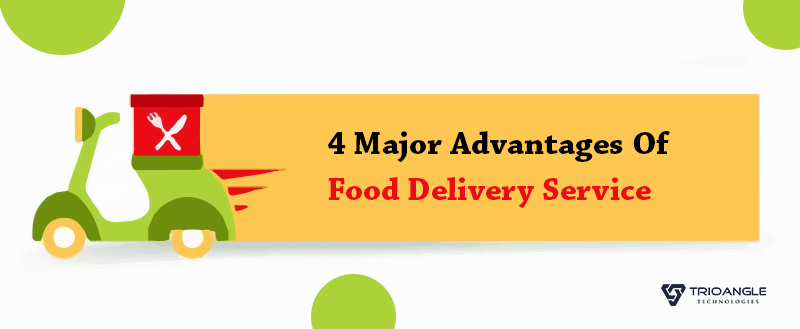 Online food delivery service is gaining its ground and reaching its peak. The entrepreneurs and business people are turning their eyeball towards food delivery because of its reach and revenue. With most of the millennials are prefer to order online, the demand keeps on increasing. There are lots of food delivery service providers like Uber Eats, Postmates, Foodpanda, and Just Eat who are ready to deliver food for you. But still, there is lots of room for improvement and development that can be utilized by startups.
Imagine that you are sitting on your couch, watching your favorite show with delicious food in your hand. Feels good right! This possible with an online food delivery service. The most important advantage of food delivery is by providing food whenever or wherever you want. Nowadays people are too busy at times, but food delivery service helps them to grab a bite in their busy schedule.
Here I provide you with the most significant advantages of online food delivery service.
Simplicity
People admire online food delivery service because of its simplicity and transparency. People decide what they order, where they order, how they pay, and when to deliver. There is no need to remember ingredients or to rush for last-minute grocery shopping.
Online food delivery service delivers your convenience which attracts people to order online. You can book a table in your favorite restaurant as there no need to wait for it.
You don't need to sleep hungry as the food delivery service is available 24/7.  You can order food now even in Christmas or new year eve, as the delivery service available for you.
Wide Variety
The online menu provides an option for the user to select from various restaurants. The images of cuisine and dishes attract and motivate a user to order. You can also manage your diet using an online food delivery service as you know the exact calories you have.
Online food delivery service delivers you with a wide range of cuisines like Italian, Thai, Chinese and different varieties of dishes like pizzas, pasta, burritos, burger, and so on. These options help you try new food or select from various types of cuisine.
Offers
From a recent report, 75% of millennials are interested in utilizing offers from a food delivery service. Everyone loves an offer from their favorite restaurant. An offer not only attracts users but also promotes the restaurant.
Payment
A food delivery app offers a different mode of payment like a Credit card, debit card, net banking, and COD. A wallet option also provided to help user pay for their order. A wallet also helps in promos and offers as it also increases the engagement of the app.
Conclusion
Online food delivery business is reaching its peak in recent years. People are engaged more and more with food delivery apps. If you are interested in developing a food delivery app, this is the correct time for you. Are you searching for the right script provider then contact [email protected]
I hope the information in this article is useful.
Thank you.