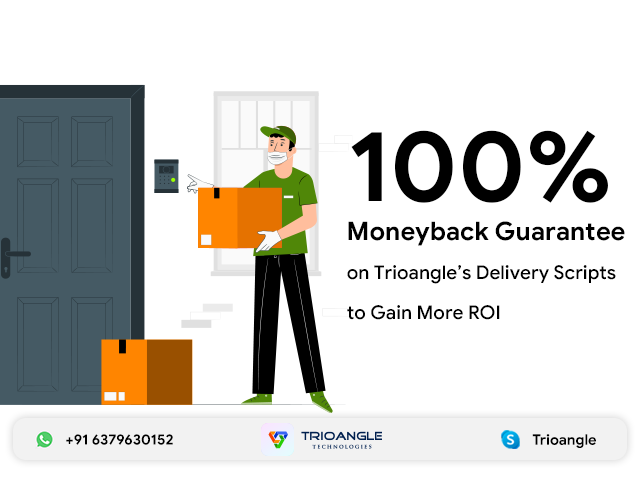 Trioangle's Delivery Scripts to Gain More ROI
Trioangle provides a 100% money back on all delivery scripts to the benefit of new delivery startups. Move forward in the delivery industry with all feature-rich delivery scripts.
Thanks to all mobile apps, getting favorite products from anywhere is easy now. The app interfaces and the unique feature set provide extreme benefits to both buyers and sellers. Creating a digital delivery marketplace with all the essentials is a trendy activity everywhere. Trioangle provides a feasible option to launch your own delivery marketplace on various business verticals with seasonal offers on delivery scripts. The 100% money back in all-type delivery scripts reduces the investments greatly in this new normal.
The prominent business model in the delivery business market is UberEats clone to digitize the food delivery business. With the basis of this, Trioangle offers different kinds of delivery scripts like food delivery, grocery delivery, pharmacy delivery, alcohol delivery to bring innovation to all these delivery businesses. Providing a 100% Moneyback to all these scripts, Trioangle welcomes many new delivery startups in the market and allows the startup owners to gain more ROI quickly.
Trioangle Technologies, the best digital solutions partner for online businesses for the last five years. Considering new emerging technologies and evolving trends, Trioangle develops all-scale solutions to any business needs. Features play a major role to decide the success level of the startups in the delivery market. The feature-rich delivery scripts from Trioangle create a unique path to reach the business goals shortly. All the solutions are scalable, pre-built and hence the time to launch delivery services is less.
"Our main objective is to bring more startups in the on-demand field with high-grade app solutions. As an entrepreneur, I know the investment difficulties in this new-normal scenario. Keeping these difficulties in our mind, I and our team now decided to provide a 100% money back on unique delivery scripts. We believe that the offer on these delivery scripts is a fruitful option for the one who wishes to launch new delivery startups in this year as well as the future." – CEO, Trioangle Technologies.
For more information visit: https://www.trioangle.com/ubereats-clone/
Why Trioangle?
Backed up with skilled professionals, Trioangle has a unique pace in the on-demand solution market. Design and development of solutions on the basis of emerging technologies always make the startups trendy and sustainable ones in the market. Offering customization as per the demands in the delivery industry and including user-friendly features surely make the delivery startup familiar in a competitive landscape. The reasons to build your partnership with Trioangle are:
Quick Delivery Startup Launch
White Label Solution
360-degree support
100% Source code
Cross-Platform App Development
Post-Launch Support
Unique Feature-Set
Attractive UX/UI Design
On-Time App Delivery
Data-Driven App Mode
Wish to be a next-gen giant in delivery services?. Build your partnership with us right now!! Grab this wonderful chance to make you forward.
Contact Us
Mail: [email protected]
Whatsapp: 6379630152
Skype: Trioangle