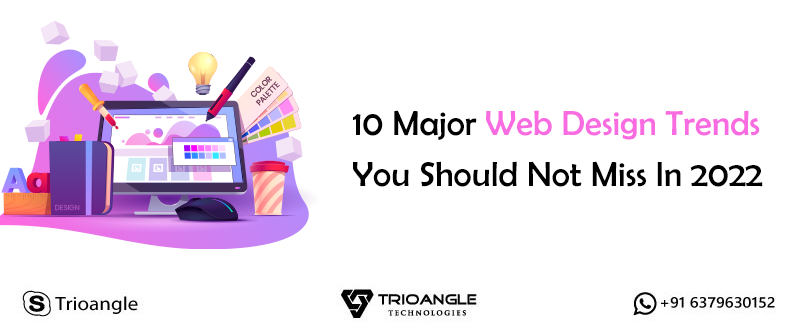 While building a website, you get a scope to impress your website visitors. The internet is stuffed with a lot of information and your site must be unique to attract viewers. Most significantly, it should interact with them, so they can utilize your web content.
Irrespective of your industry, you have to observe the essential web design principles. You want to make it beautiful, user-friendly and include all appropriate details required for telling your story. On top of everything, your web design needs to be encouraging.
We must be aware of new future design trends prior to website development. 2022 has also brought some outstanding web design trends. 
2022 Top Trending Web Design Trends
1. Videos as Design Components
Videos are always omnipresent in website design. In case you want to add interviews or promotional videos to your website, videos are a great way to involve your audience by enthusiastically delivering essential data.
Now, videos are playing a new role in website design. From being completely informational, they are converting to design elements. Due to the seamless adoption of the new technologies, now videos can be included in the website design in interesting and new manners.
2. 3D Illustrations
The lines between reality and virtual reality are confusing. 3D effects and techniques in the 2D space are excellent instances in 3D illustrations. Designers are exploring each and every 3D element, from animations and illustrations to scenes made with pictures and objects
Illustrations can add 3D results and intensity with shadows and simply the proper concept in the innovative procedure. And this may cause something that has an extra realistic feel.
3. Organic Shapes
Although geometric shapes were one of the massive web design trends in 2019, organic shapes will take place in 2022. Fluid or organic shapes are everything that no longer consists of straight lines. These are the shapes that take place in nature, such as a river or lake's edges, hills, and how they are winding and asymmetrical.
Organic or fluid shapes can amazingly destroy a website's segments besides rough angles or lines. Moreover, they can be perfectly utilized in the background, like the way Android makes use of circles behind every object on their homepage.
4. Dark Mode
Dark mode is one of the most famous web design trends for 2022. It is modern-day as it offers a low-contrast application or website that you can without difficulty browse through in low light environments. It helps you highlight a specific content type as well.
Some other reasons to go for this trend:
Dark mode works as a battery saver.

It gives your device a modern and cool appearance.
5. Changes in Scrolling
The modifications in scrolling have already transformed the way users operate websites. This trendy style is going to stand out in 2022 with the transformation of scroll animations, scroll telling, and horizontal scrolling.
This is why websites are getting more accessible and attractive rather than simply playing a media function that connects users with web activities. These transformations not just assist users to get more engaging experiences but gather simple information from websites.
6. Parallax Animations
Parallax is an optical illusion that we see in our day-to-day life. It takes place when nearer objects seem to pass faster than distant objects. The parallax impact on website pages looks so surreal and real.
The use of background and foreground for creating depth has another benefit of immersion. It converts the  Personal Computers display screen closer to a theatre stage. Since users browse through website pages, they think about its overall performance as magical.
7. Light Colors
Want your site visitors to preserve searching at your web pages? Then, choose light colors. This type of low-saturation, comfortable colors are sometimes grayed-out or dulled, simply like a cloudy day.
Many web designers make use of muted colors for displaying minimalist looks. Moreover, these colors also provide a more elegant and natural feel.
8. Cursor or Mouse Actions
You would possibly miss this small trend if you don't focus on your cursor or mouse actions. As you hover, click, or scroll your cursor or mouse, their states radically change into interesting things. This amazing trend no longer simply shows the capacity of the design but helps make users happy.
This enjoyable trend makes users want to browse from their computer even more as its many small effects do not feel similar on a mobile device.
9. Retro Fonts
We have considered many cool fonts before, but now they have become very uncool and fallen out of favor. However, alternatively without doubt reusing the previous typography, designers these days are reimagining those conventional typefaces for 2022. Vintage fonts of past decades are now featuring new shades and have come with a new sparkling look.
10. Vector Art
You can usually add special images to your website to enhance its look. It does not mean you will sacrifice its quality and loading time. However, it is pretty challenging in terms of website design. Vector art is the great solution to this difficulty.
The files' SVG layout permits users to scale the visuals as per their requirements while keeping up with unique graphics' quality. Vector art files' availability makes us expect that website design developments in 2022 will experience the growing existence of these rather magnificent illustrations.
Conclude,
We, as a leading web design company, predict to see captivating, eye-catching, bright, and clean websites. The websites should use animations and videos to boost the user experience.
Moreover, we predict to get a thumb-friendly design that can positively impact our revenues and brands. If you are planning to design a hassle-free and modern website, keep the aforesaid trends in mind.
Visit Our Site: https://www.trioangle.com/design-graphics-services/
Whatsapp: +91 6379630152  or  Email: [email protected]